Apple is planning a range of transformative upgrades for the iPad lineup in the coming years, including a new 14.1-inch model and an 11-inch model with an OLED display, as well as the introduction of under-screen camera technology and foldable displays, according to reliable display analyst Ross Young.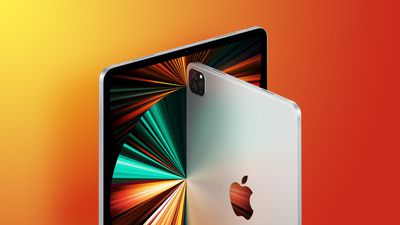 The comments, made on the latest episode of The MacRumors Show, provide insights into Apple's future plans for the ‌iPad‌. Among the key new details is the fact that Young no longer believes that the 14.1-inch iPad rumored to launch early next year will feature mini-LED technology, with the display effectively being the same LCD that is in the current iPad Air. He added that he is seeking further confirmation from suppliers about the larger device.
Young believes that the 11-inch iPad Pro will stick with its current display technology in the immediate future, with Apple having no plans to upgrade it to a mini-LED display or "Liquid Retina XDR" like the 12.9-inch ‌iPad Pro‌. The company is instead said to be waiting for the jump to OLED displays, which is scheduled to occur for both the 11-inch and the 12.9-inch ‌iPad Pro‌ simultaneously in 2024. Young said that Apple expects the OLED 11-inch ‌iPad Pro‌ to sell in considerably higher volumes than the OLED 12.9-inch ‌iPad Pro‌ during their launch year.
Young thinks that Apple's under-display TrueDepth camera could come to the ‌iPad‌ before it comes to the iPhone, with the technology being easier to introduce underneath a larger display with lower pixels per inch. The implementation is also said to be more feasible because the ‌iPad‌ is manufactured in lower volume than the ‌iPhone‌. He added that this new feature could theoretically emerge as soon as next year, well ahead of when the technology is expected to appear on the iPhone.
In addition, Young claimed that obtaining a sufficient volume of cover glass has been a key limiting factor in Apple's failure to bring a foldable iPhone to market so far. The company is not expected to face such problems with a larger foldable ‌iPad‌ or MacBook, hence why a bigger Apple foldable device could also come to market before a foldable ‌iPhone‌.
Related Stories
Apple's Rumored 14-Inch iPad Considered 'Unlikely' to Feature ProMotion
Last week, well-connected display industry analyst Ross Young said he confirmed with his supply chain sources that Apple is planning a new 14.1-inch iPad Pro, but he has since revised his prediction and now believes the device may be a standard iPad after all . In a tweet shared with his Super Followers today, Young said he confirmed that the 14-inch iPad will not have a mini-LED display…
14-Inch iPad Pro With Mini-LED Display Rumored to Launch in Early 2023
Apple is reportedly developing an iPad Pro with a 14.1-inch mini-LED display, according to Display Supply Chain Consultants (DSCC) analyst Ross Young. On Twitter, Young claimed that this larger iPad Pro model will feature a mini-LED display and ProMotion like the current 12.9-inch iPad Pro: Confirmed the 14.1″ iPad Pro is being developed with our supply chain sources. It will have …
Apple Rumored to Be Planning OLED iPad Pro in Both 11-Inch and 12.9-Inch Sizes
Apple plans to launch new iPad Pro models with OLED displays in both 11-inch and 12.9-inch sizes in the future, according to a report published today by Ross Young, co-founder and CEO of research firm Display Supply Chain Consultants. "Looking at tablets beyond 2022, we expect to see Apple shake-up this category again by launching OLED iPad Pros," wrote Young. While mini LED display…
Apple Reportedly Planning 13-Inch MacBook Air and iPad Pros With OLED Displays
It appears "increasingly likely" that Apple will launch a new 13-inch MacBook with an OLED display in 2024, according to display industry analyst Ross Young. In a tweet shared with his Super Followers today, Young said the notebook is expected to be a new MacBook Air, but he said there is a possibility it will have other branding. Young, who has accurately revealed a range of display-related …
Apple's Even Bigger iPad Pro Could Be Foldable
Apple could be working on an even larger, foldable iPad Pro model, multiple reports appear to indicate. Display Supply Chain Consultants (DSCC) analyst Ross Young recently claimed that Apple is exploring the possibility of offering notebooks with foldable displays. The company is said to be discussing such devices with displays around 20 inches in size with its suppliers. This display size…
11-Inch iPad Pro No Longer Expected to Gain Mini-LED Display in 2022
The updated 11-inch iPad Pro expected to launch sometime this year can no longer be expected to feature a mini-LED display like its larger 12.9-inch sibling, display analyst Ross Young said today on Twitter. Earlier rumors indicated that after keeping mini-LED exclusive to just the 12.9-inch iPad Pro in 2021, Apple would expand the newer display technology to the smaller 11-inch form…
The MacRumors Show: Ross Young Talks Major iPad and Mac Rumors for 2023 and Beyond
Display analyst Ross Young joins us on The MacRumors Show podcast this week to discuss some of his biggest leaks about Apple's plans for the next year and beyond. Subscribe to the MacRumors YouTube channel for more videos Ross is co-founder and CEO of Display Supply Chain Consultants (DSCC), a leading display market research firm, and has worked throughout the display supply chain. Ross is…
Apple's Next Major Display Upgrade Coming to Three Devices
Apple's next major display upgrade is set to come to three devices initially, according to multiple recent reports. Apple introduced its first true mini-LED display with the 12.9-inch iPad Pro in 2021, having previously experimented with very similar technology in the Pro Display XDR that launched in 2019. In late 2021, Apple launched two more mini-LED devices, the 14- and 16-inch MacBook…
Popular Stories
First Benchmark Result Surfaces for MacBook Air With M2 Chip
An early benchmark result for the new MacBook Air has surfaced, providing a closer look at the M2 chip's performance in the notebook. In a Geekbench 5 result spotted by "Mr. Macintosh" on Twitter, the MacBook Air with the M2 chip and 16GB of unified memory achieved a single-core score of 1,899 and a multi-core score of 8,965. These scores are approximately the same as those achieved by the…
Apple Seeds First Public Betas of iOS 16 and iPadOS 16
Apple today seeded the first betas of iOS 16 and iPadOS 16 to public beta testers, opening up the iOS 16 beta testing process to the general public for the first time since the Worldwide Developers Conference. Developers have already had three betas, and the first public beta coincides with the third developer beta. Public beta testers who have signed up for Apple's beta testing program can…
iOS 16 Public Beta: Seven New Features to Check Out on Your iPhone
Apple has released the first public beta of iOS 16, allowing anyone with an iPhone 8 or newer to test out the software update for free. iOS 16 includes plenty of new features, ranging from a customizable Lock Screen to the ability to edit or unsend iMessages. To get the iOS 16 public beta, sign up for the free Apple Beta Software Program directly on your iPhone. Given that iOS 16 is still in …
YouTube Rolling Out Picture-in-Picture Support on iOS for All US Users, Premium Users Globally
YouTube today announced that it has begun rolling out picture-in-picture support for all iOS users in the United States, allowing iPhone and iPad owners to close the YouTube app when watching a video and continue to view the content in a small pop-up window while doing other things on their devices. Picture-in-picture support has previously available to YouTube premium subscribers in the…
Gurman: 'Apple Watch Pro' Extreme Sports Model Could Cost Nearly $1,000
Apple's rumored high-end Apple Watch model for extreme sports could cost around $999 – the same starting price as the current iPhone 13 Pro – according to Bloomberg's Mark Gurman. Samsung Watch Pro 5, the likely rival of 'Apple Watch Pro' (Image: 91Mobiles) Writing in the latest edition of his Power On newsletter, Gurman compares the rumored premium watch to the current 45mm titanium Apple…
Apple Adding First MacBook Pro With Touch Bar to Vintage Products List
Apple will be adding the first 13-inch and 15-inch MacBook Pro models with the Touch Bar to its vintage products list on July 31, the company said in an internal memo shared with Apple Stores and Apple Authorized Service Providers this week. The first MacBook Pro models with the Touch Bar were released in October 2016 as part of a complete redesign of the MacBook Pro. Other new features…
.