The Arctic is heating up four times faster than the rate of global heating, new analysis by climate researchers has revealed.
This could have large scale ramifications, since the Arctic influences the world's climate and weather, with melting ice-sheets in Greenland posing a risk to sea levels.
Scientists found that the trend has increased steeply over the past 50 years but was only identified by four out of 39 climate models.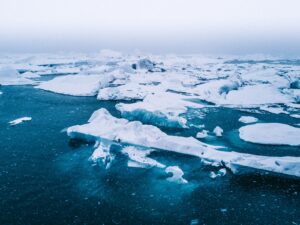 'Thirty years is considered the minimum to represent climate change,' said Petr Chylek, a physicist and climate researcher at Los Alamos National Laboratory and lead author of the study in Geophysical Research Letters. 'We decreased the time interval to 21 years.'
By studying climate projections within a smaller timeframe, Chylek and his collaborators were able to suggest strategies to mitigate and adapt to climate impacts more accurately.
Using an amplification index, the study compared the ratio of an Arctic 21-year temperature trend with an overall global 21-year temperature trend.
'At that smaller time scale and, contrary to previous investigations that found the Arctic amplification index increases in a smooth way, we observed two distinct steps, one in 1986 and a second one in 1999,' said Chylek.
The researchers discovered that the Arctic amplification index was greater than four in the early decades of the 21st century, four times faster than the global mean.
This was not detected by 39 climate models studied by the research team, which used 30-year-plus timescales.
The sudden increases in warming in the Arctic are thought to be due to sea-ice and water-vapor feedbacks combined with changes in how atmospheric and oceanic heat moves in the area.
'We attributed the first step to increasing concentrations of carbon dioxide and other pollutants in the atmosphere, because several models do it correctly,' Chylek commented, 'but the second step we think is due to climate variability because none of the models can reproduce the second step.'
Next, the team of scientists are planning to investigate future Arctic climate projections using the four models which most accurately identified the warming trends.
'People are not only interested in long-term climate change, but they are also interested in 10 years ahead, 20 years, 30 years. For decadal prediction our observation that the amplification index changed in the past in steps is quite important,' explained Chylek.
Photo by Willian Justen de Vasconcellos