Earlier today, Pierre LeBrun of The Athletic had tweeted that there was some progress in the last 24 hours between Evgeny Malkin and the Pittsburgh Penguins, but it now appears talks have broken down. Darren Dreger of TSN reports that the superstar center will test free agency on Wednesday. Dreger tweets that Malkin "wants to see what his options are," given that he has never been a free agent previously.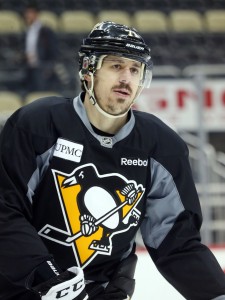 From the beginning, things had appeared fractured between the Penguins and Malkin. Rob Rossi of The Athletic relayed a text from the Russian star over the weekend, that simply asked "do they want me?" The negotiations have been very public, with offer details leaking every few days, and quotes from Malkin himself being part of the reporting out of Pittsburgh.
Still, it seemed as though the two sides would inevitably get together, given their long history together and the fact that Kris Letang was re-signed for less money than he likely could have gotten on a short-term deal. The team could certainly fit Malkin under the cap at the moment, as they sit with more than $15MM in space.
Previous management groups have called Malkin a legacy player and suggested that there was no way he would pull on another team's sweater before he retired, something the player himself has reiterated publicly. With new ownership and a front office that doesn't have the same long-term ties to him though, things never progressed as quickly as expected.
If the 35-year-old center does hit the open market, it will be interesting to see what kind of contracts will be waiting for him. Without that built-in franchise connection, it's hard to see the four-year deal that Malkin wants, or even maybe a three-year pact given his age and oft-injured status. Still, rival teams are likely pre-dialing his agent in hopes of snatching away a player that has been so good against them for so long. Contenders across the league would be wise to try and add him on a short-term deal if it is possible.
When he's healthy, Malkin can still be quite effective. He scored 20 goals and 42 points in 41 games this season for the Penguins, and was still a weapon on the powerplay. In the past, a motivated Malkin has been a dominant force; it's easy to understand how being cut loose by the only team he's ever known could fuel a resurgent season, even if a multi-year deal might still be a bit of a risk.
At any rate, the fact that he's not re-signing will add an extra wrinkle to the festivities on Wednesday, where he'll join plenty of other high-impact forwards on the open market.
Photo courtesy of USA Today Sports Images
.