With less than 12 hours remaining before they lose the ability to offer an extra year, the Calgary Flames are putting forward their best offer for Johnny Gaudreau. Frank Seravalli of Daily Faceoff tweets that Calgary has offered an eight-year contract worth more than $10MM per season, which would make the pending free agent winger one of the highest-paid players in the NHL. He notes that if Gaudreau leaves Calgary tomorrow "it likely won't be because of money."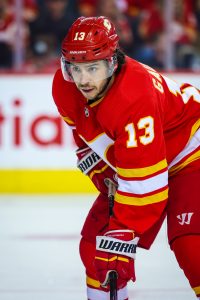 Unlike free agency itself, which doesn't open until midway through Wednesday, a team's right to sign one of its own players to an eight-year deal expires at midnight (EST). That means if there's no deal by tomorrow and Gaudreau is to land more than this $80MM+ on the table from Calgary, he would need to sign a seven-year deal worth at least $11.43MM per season. That number would put him fifth in the entire league, behind only
Connor McDavid
,
Artemi Panarin
,
Auston Matthews
and
Erik Karlsson
in terms of cap hit.
Total money isn't always the deciding factor though, especially not for NHL players (or at least their agents) who can see the salary cap rising significantly in a few years. That extra year for Gaudreau might not be as important as seeing what kind of teams are interested, and what is the best fit for his career moving forward.
The Flames, of course, will have a huge hole in their lineup if Gaudreau decides to leave–and a bunch of cap space to fill it with. The team currently sits with more than $26MM in room, though that doesn't factor in extensions for Matthew Tkachuk, Andrew Mangiapaneand Oliver Kylingtonwho are all restricted free agents.
Gaudreau was the unanimous top selection in our UFA list, following his outstanding 115-point season.
.