On an otherwise quiet Saturday night, the New York Islanders have decided to get a bulk of their lower-priority offseason business done. The team has, per CapFriendly and PuckPedia, finalized contract extensions for a whopping seven players: defensemen Robin Salo, Sebastian Ahoand Grant Huttonforwards Andy Andreoff, Otto Koivulaand Jeff Kubiak, and goalie Ken Appleby.
Salo, 23, got a two-year extension carrying an $800k cap hit in each year, with a $750k salary in 2022-23 and a $850k salary in 2023-24. Salo was the 46th overall pick at the 2017 draft after a successful season as an 18-year-old playing full-time in the Finnish Liiga. Salo was a long-term project pick, and he spent three seasons in Liiga before spending 2020-21 manning the blue line for Orebro in the SHL. That wealth of professional experience helped Salo make a smooth transition to North America. He began the year with the AHL's Bridgeport Islanders, quickly becoming one of their most relied-upon defensemen. At the AHL level, Salo finished second on the team with 21:05 time-on-ice per game, including 3:27 average time on ice on the power play. Salo was reasonably productive, with 20 points in 41 games, and his instant success at the AHL level earned him time with the Islanders at the NHL level. There, he averaged nearly 17 minutes of ice time per game and even got some time on the power play. Salo will get the chance to make the Islanders' opening-night roster at training camp and, should he make it, will be a great help to the Islanders' cap situation with his highly manageable $800k cap hit.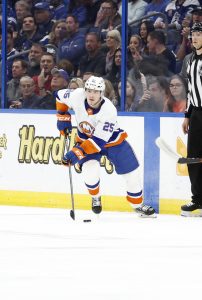 Aho, 26, was a frequent healthy scratch for the Islanders this season, although his role as the team's spare defender kept him on the NHL and away from Bridgeport for the entirety of 2021-22. In total, Aho got into 36 games and posted 12 points. He averaged 16:27 time on ice per game and averaged 44 seconds of time on the power play, only getting time there in very specific circumstances. Aho is an undersized defenseman, but his ability in transition and production in the AHL has kept him as a reliable depth piece in New York. Ah's extension is two years, $825k AAV.
The Islanders also re-signed Hutton, a 26-year-old undrafted player who found a home in the Islanders' organization after a successful four-year stint at Miami University of Ohio, a team he captained his senior year. Hutton got into 16 NHL games this year and scored his first NHL goal, but he averaged only 14 minutes of time on ice per game and did not earn the trust of coach Barry Trotz. Hutton had 20 points in 46 AHL games, skating as a top-four defenseman at that level, and with the extension should remain a depth piece for the Islanders moving forward. Hutton's deal is a three-year, $775k AAV extension that interestingly is a one-way contract for the final two years it runs. (PuckPedia link)
The next player the Islanders have reportedly re-signed is forward Andy Andreoff. Andreoff, 31, is a veteran of 185 NHL games and has proven himself as a reliable AHL scorer. Andreoff had 18 goals and 42 points for the Bridgeport Islanders, good for fourth on the team. Andreoff ranked fifth in Bridgeport in short-handed time on ice per game, and earned a two-year, two-way extension. His extension carries a $762k cap hit and holds total guarantees of $375k per year.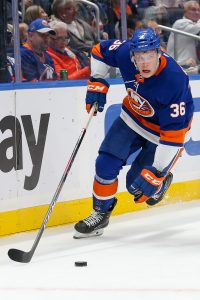 The second of three forwards the Islanders have re-signed is Koivula, a 23-year-old 2016 fourth-round pick. Koivula, who represented his native Finland at two IIHF World Junior Championships, is coming off a year where he ranked second on the Bridgeport Islanders in scoring with 47 points in 56 games. Koivula's skating has thus far kept him from breaking into the NHL full-time, although he did get into eight games with the big club in 2021-22. Standing at six-five, 225 pounds, Koivula has intriguing size and has blossomed into a top-of-the-lineup offensive player at the AHL level. Koivula's extension is a two-year deal with an $800k AAV. It will be a two-way deal in 2022-23 with a $750k cap hit before becoming a one-way deal in 2023-24 with an $850k cap hit.
The final forward the Islanders re-signed is Jeff Kubiak. The 28-year-old has been in the Islanders' system since he graduated from Cornell University in 2017 and has worked his way up from the team's ECHL affiliate, the Worcester Railers. Kubiak's offensive game is not what earned him this one-year, $750k deal. (PuckPedia link) It's his defense, as he's become a true defensive specialist with AHL Bridgeport. There, Kubiak ranked first among team forwards with nearly three minutes of short-handed ice time per game, anchoring a penalty kill that ranked in the top half of the AHL with an 81.5% success rate. Kubiak may not have true NHL upside to his game but he's become an important specialist player for the Islanders' AHL squad.
Finally, the last player the Islanders have re-signed is goaltender Ken Appleby. Appleby, 27, bounced between the AHL and ECHL levels in 2021-22, posting solid numbers with each affiliate. At the AHL level, Appleby had a .928 save percentage in nine games, and he had a .918 in 27 games in the ECHL. Appleby earned a two-year, $762k AAV deal that carries a $125k guarantee in year one and a $130k guarantee in year two, according to PuckPedia.
As noted, information on the extensions is courtesy of CapFriendly and PuckPedia. Photos courtesy of USA Today Sports Images.
.