After a loose and dusty practice and Timed Training session on the refreshed Lenzerheide course riders were back between the tape to fight for the top qualifying spots ahead of tomorrow's racing.
World Cup overall leader Camille Balanche takes another top qualifying spot this year with a sizeable 4.6-second advantage over Myriam Nicole. The biggest story from qualifying is definitely the amazing seventh place for Rachel Atherton who hasn't raced a World Cup since 2019. Pinkbike Racing has brought French Elite racer Leona Perrini into the team for the next two rounds and she manages to make it into finals with 14th place.
For the Elite Men Amaury Pierron is back at the front of the race after pulling 0.277 seconds ahead of Dakotah Norton on the prototype Intense. Loris Vergier follows up his Timed Training win with third place and Benoit Coulanges is the last rider within one second on Amaury's top time. Pinkbike racing's Thibault Laly had a rapid run seeing him place 26th while sadly Ben Cathro just misses out on qualifying in 63rd.
In the Juniors it was Phoebe Gale and Jordan Williams who went fastest and will be last down the hill tomorrow. Both Jordan and Jackson Goldstone continue to be inseparable in times and we are in for another big fight tomorrow. Aimi Kenyon just missed out on a top-five finish as she went across the line with a time good enough for sixth place.
Stay tuned as the Elite Men's results come in from qualifying at the fourth round of the 2022 World Cup series in Lenzerheide.
---
Live Timing can be found here.
---
Results:
---
Elite Women
---
1st.
Camille Balanche: 3:18.898
2nd.
Myriam Nicole: 3:23.501
3rd.
Monika Hrastnik: 3:26.294
4th.
Eleonora Farina: 3:29.291
5th.
Veronika Widman: 3:32.075
---
Elite Men
---
1st.
Amaury Pierron: 2:52.396
2nd.
Dakotah Norton: 2:52.673
3rd.
Loris Vergier: 2:52.767
4th.
Benoit Coulanges: 2:53.120
5th.
Luca Shaw: 2:53.753
---
Junior Women
---
1st.
Phoebe Gale: 3:35.939
2nd.
Gracey Hemstreet: 3:39.156
3rd.
Jenna Hastings: 3:43.005
4th.
Izabela Yankova: 3:44.194
5th.
Kine Haugom: 3:52.576
---
Junior Men
---
1st.
Jordan Williams: 2:58.765
2nd.
Jackson Goldstone: 2:58.774
3rd.
Henry Kiefer: 3:01.091
4th.
Tristan Lemire: 3:04.706
5th.
Wei Tien Ho: 3:05.341
---
Full Results:
Elite Women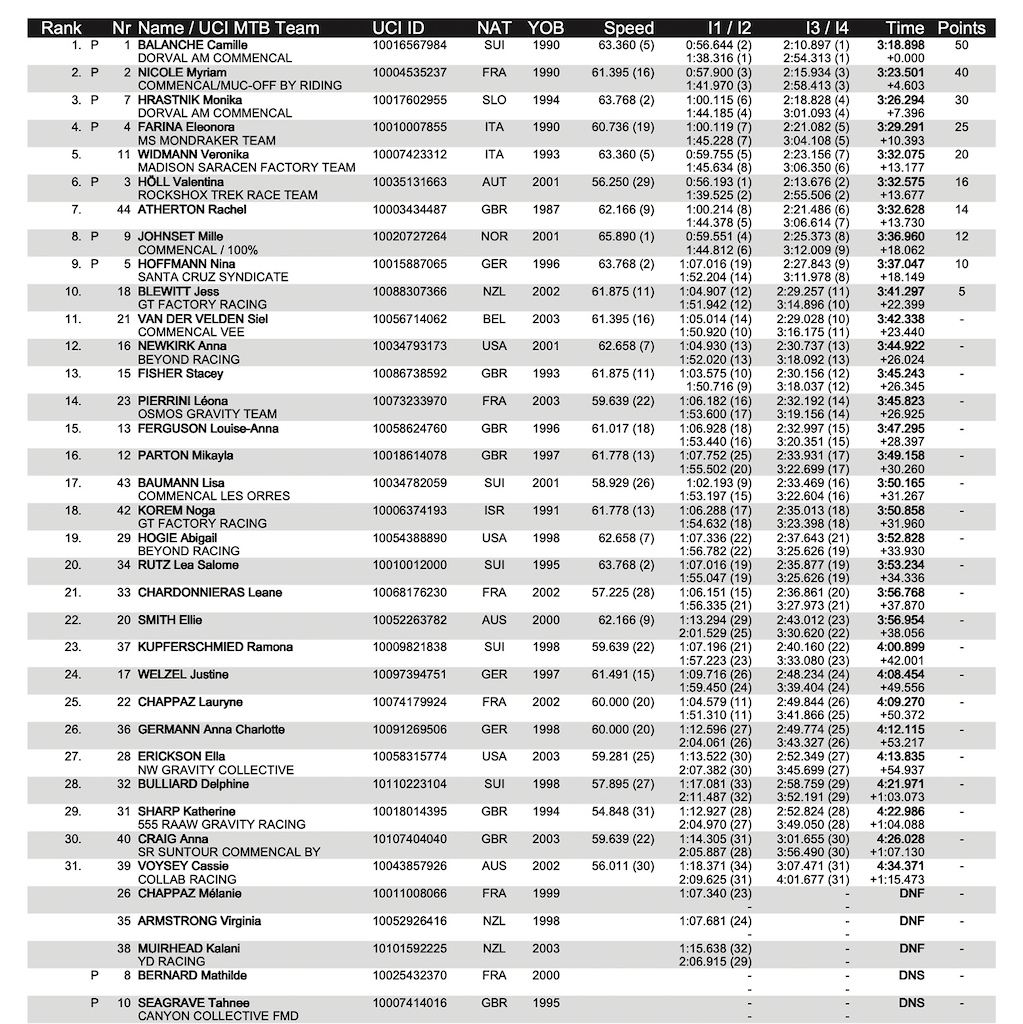 Elite Men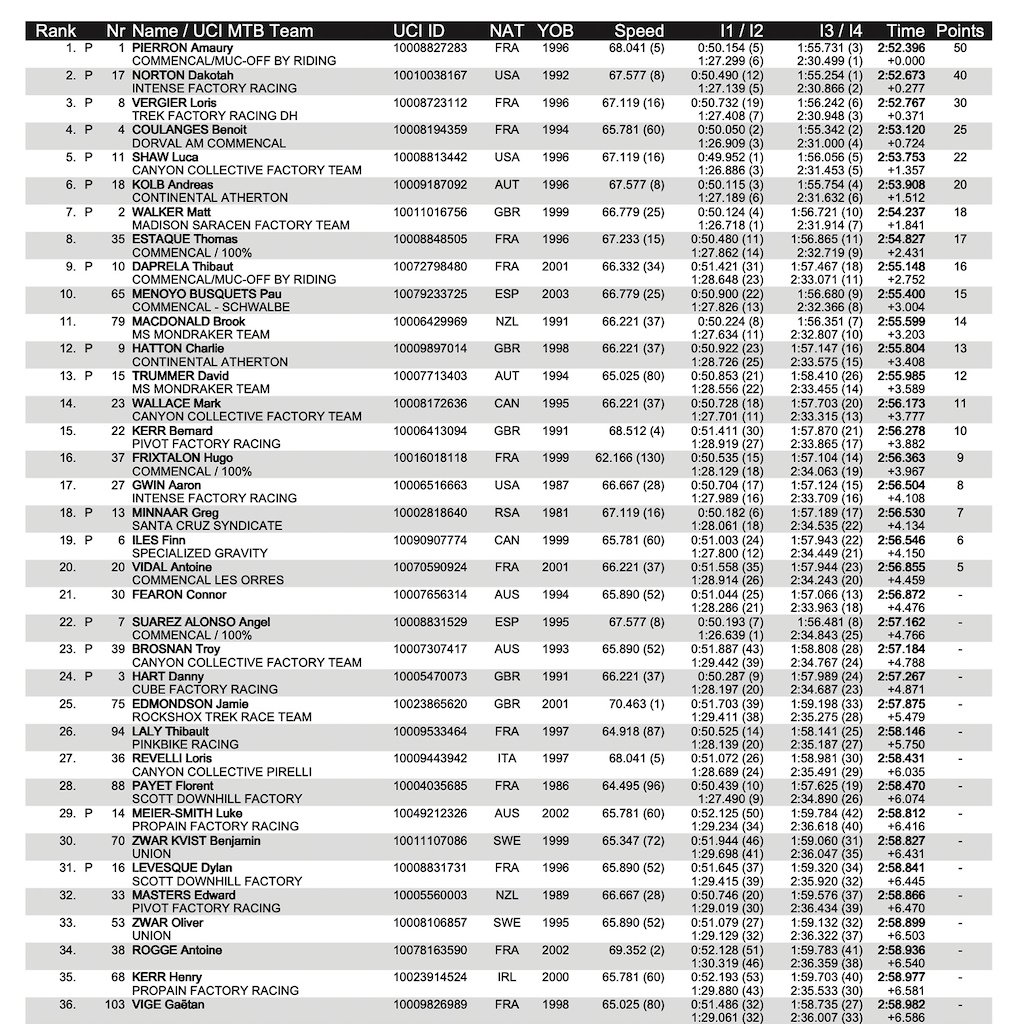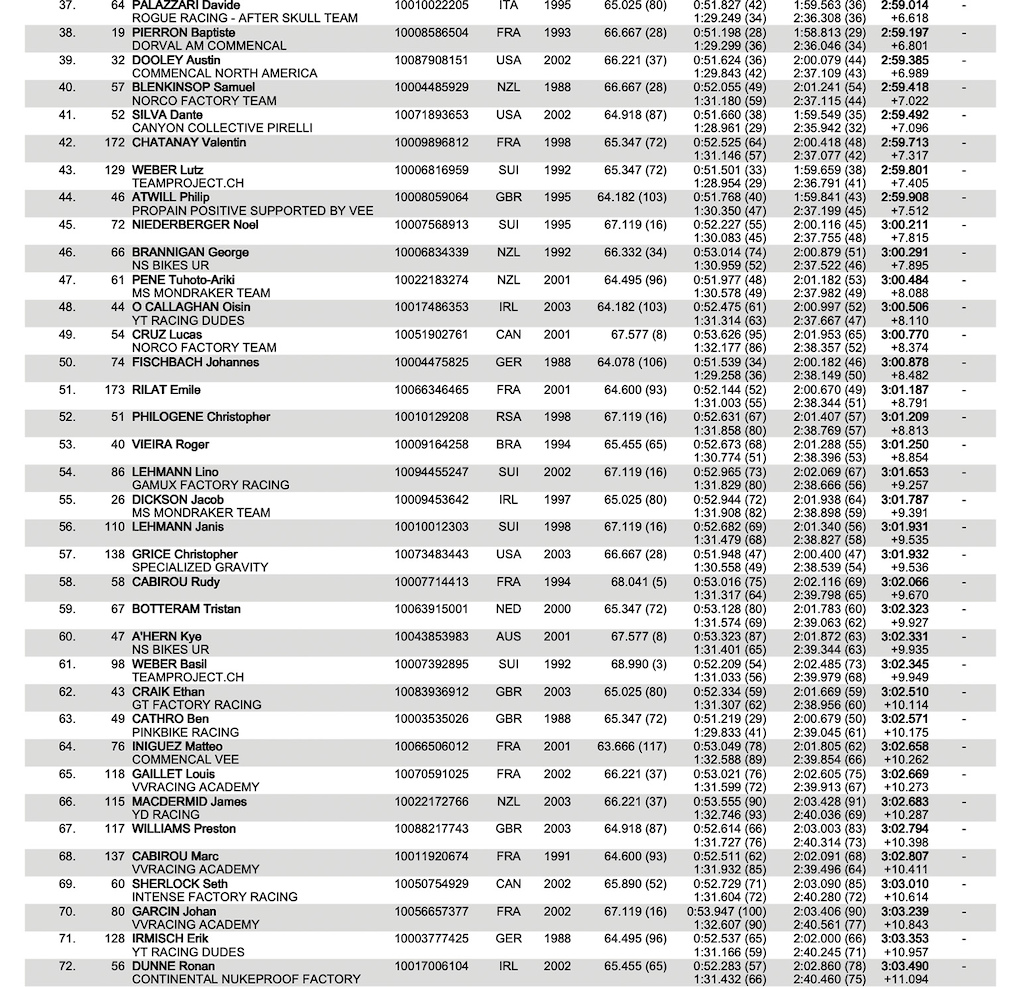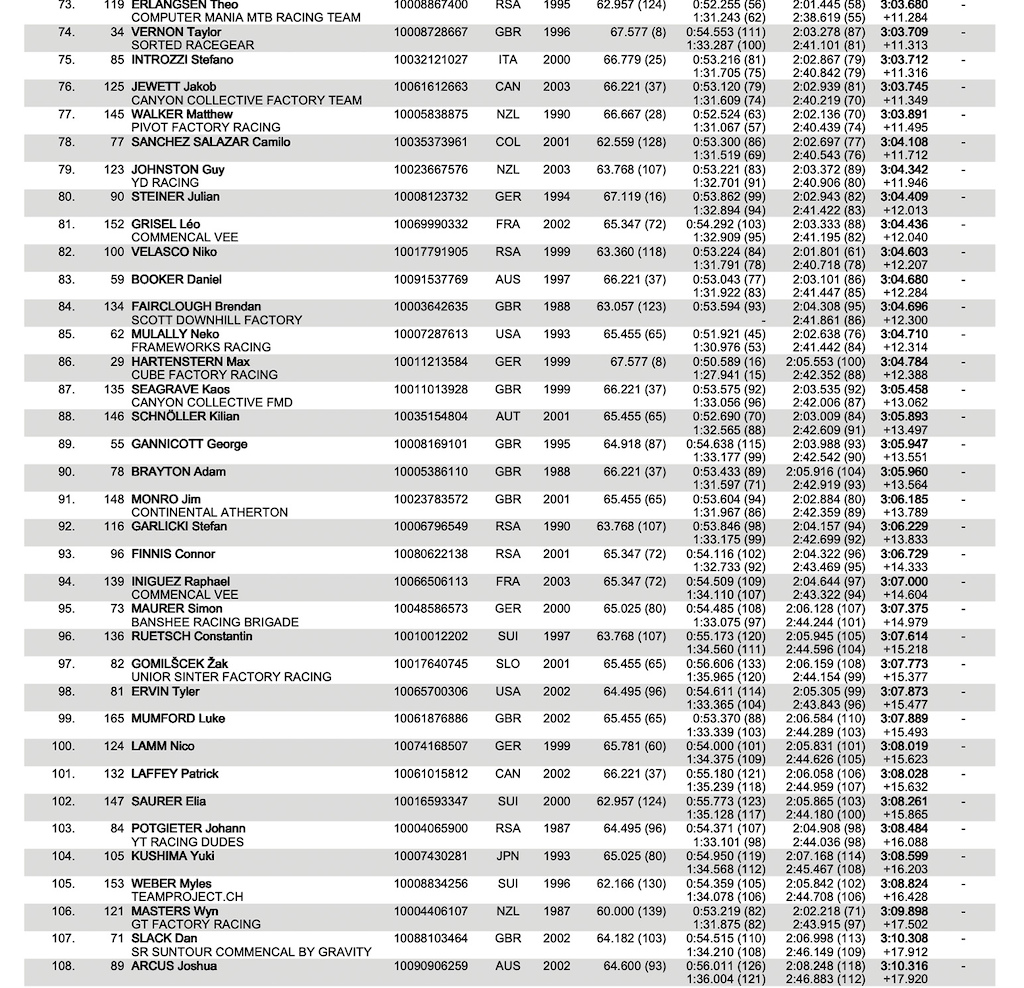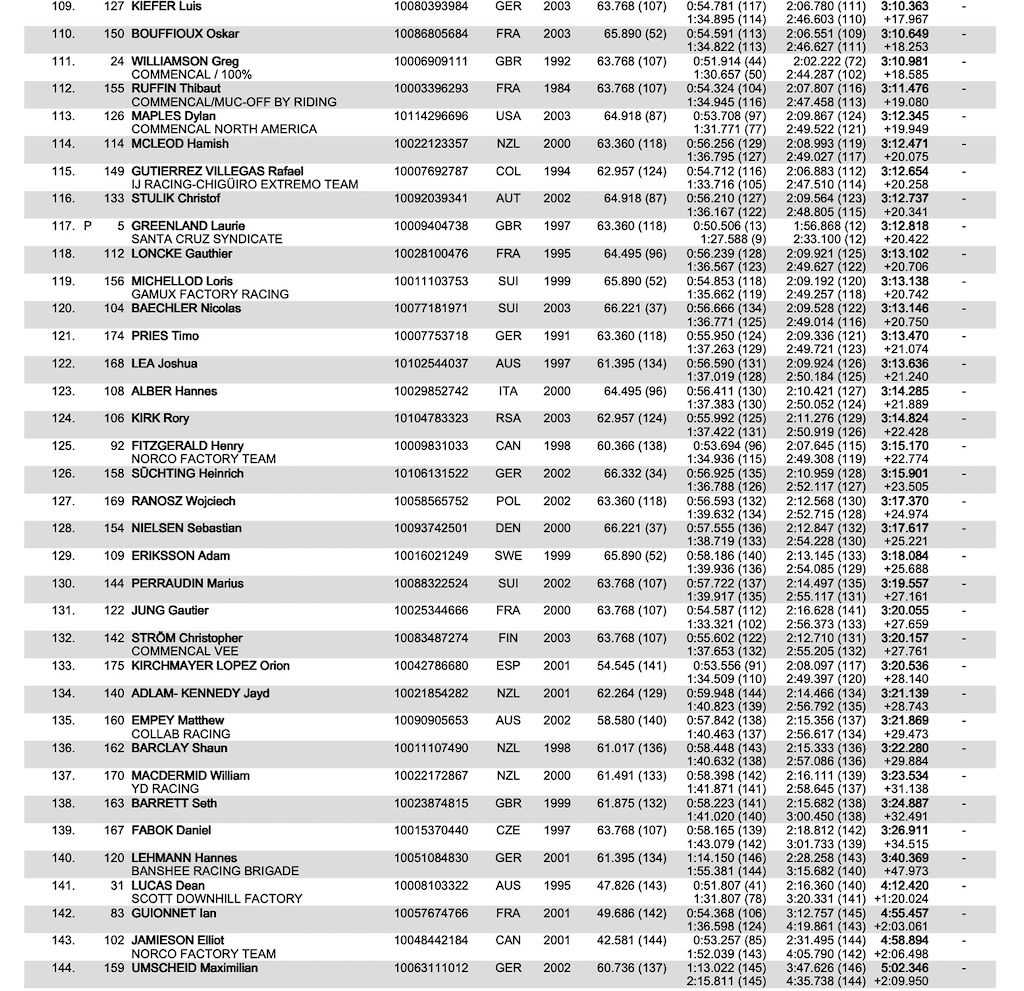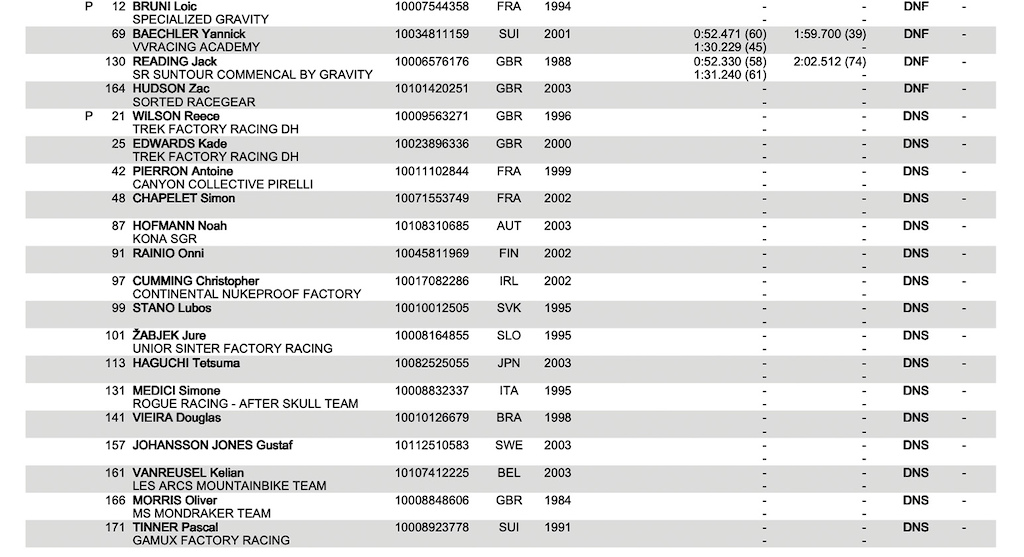 Junior Women
Junior Men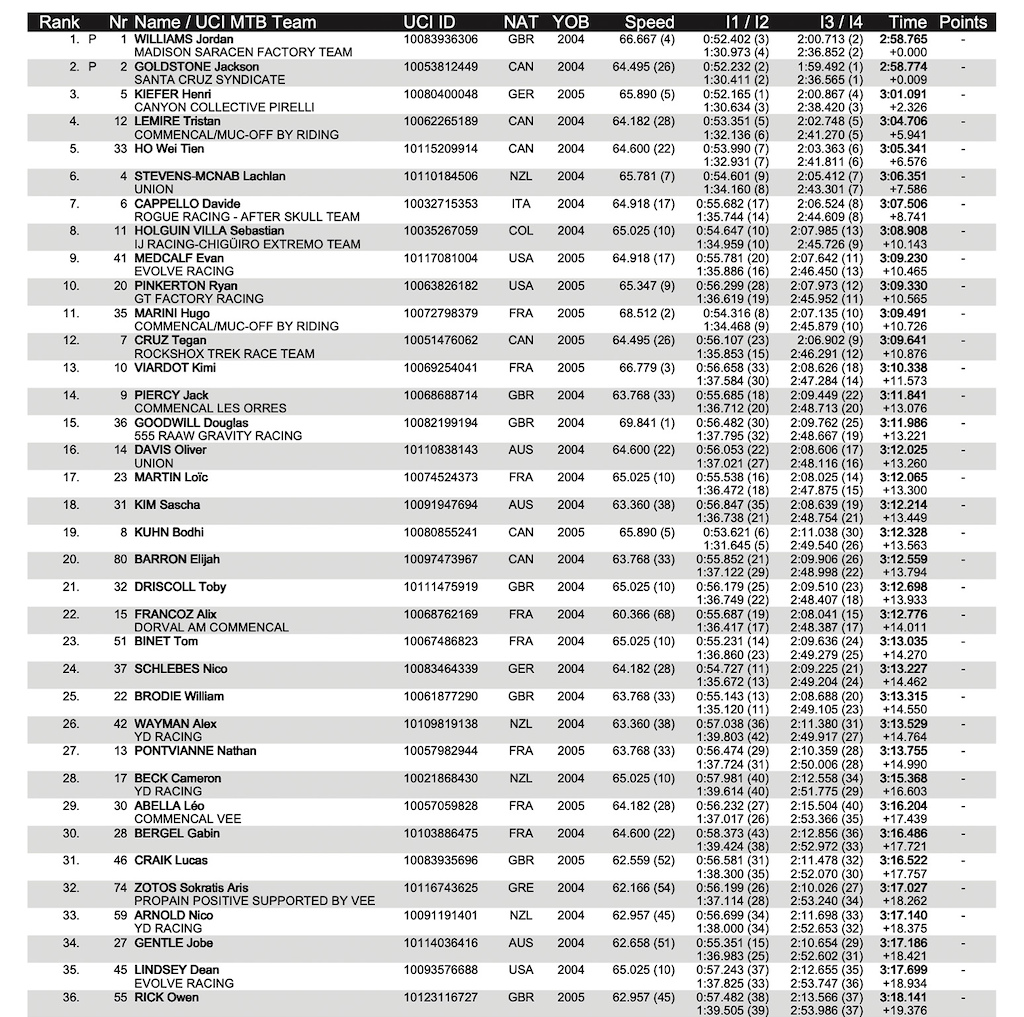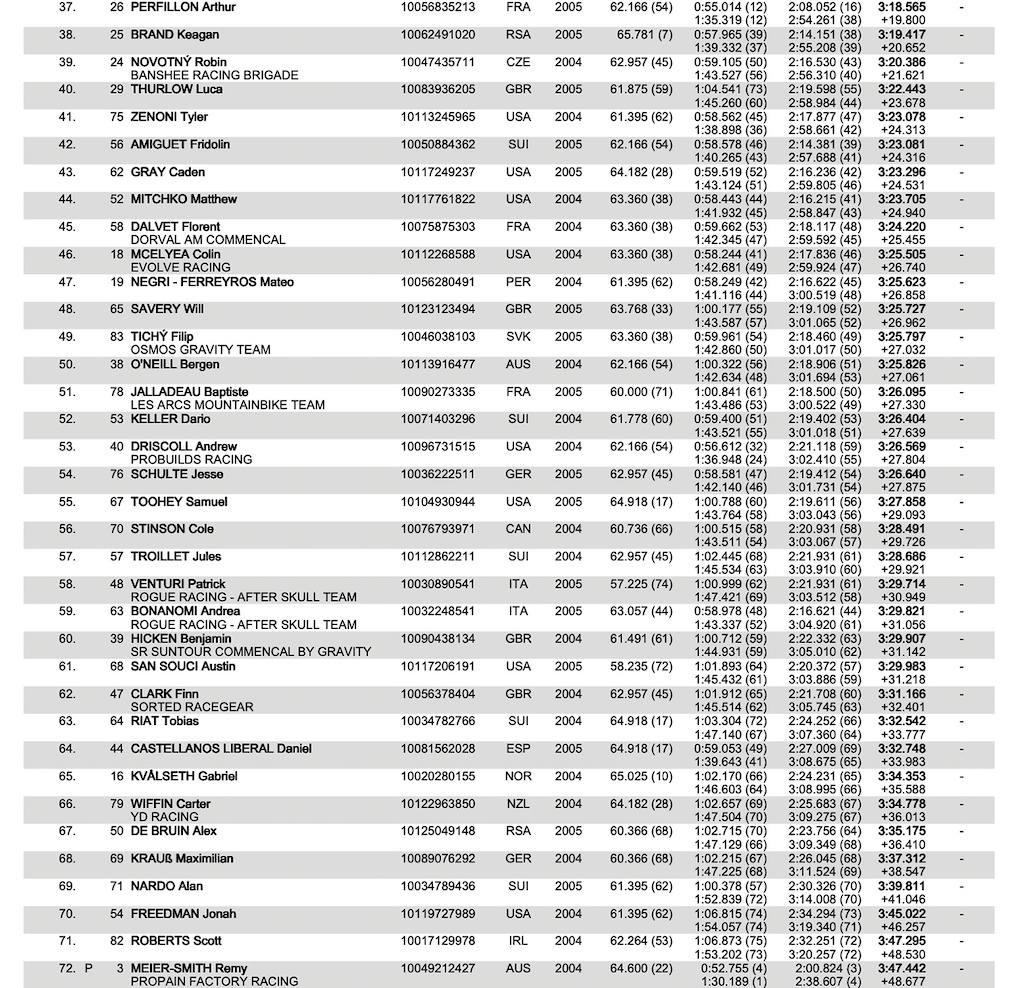 ---
.