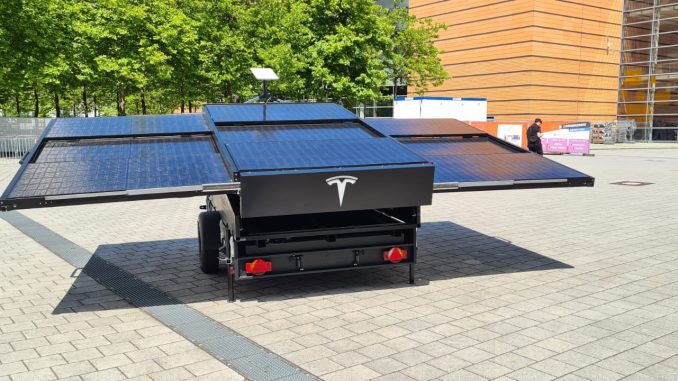 Tesla owners usually don't have to worry about running out of battery thanks to the company's expansive Supercharger network. But if you are planning to travel off the beaten path, you might want to get your hands on this solar powered range extender trailer that also comes with Starlink.
The best part is it was created by Tesla themselves, and is being displayed at the IdeanExpo in Hanover, Germany this week.
According to a photo of the unit shared by Falk Melzer, the trailer features an array of solar panels that can be extended outwards when not in motion. Unfortunately there were no details on the amount of power the unit could provide, or if it also features battery storage onboard, but given the sheer size of the trailer it could probably provide you with enough power to get you to the next Supercharger should you find yourself in a tricky situation. (via @tesla_adri)
At first glance it is difficult to understand just how big the whole unit is, but you will also notice there is a SpaceX Starlink satellite dish attached at the front of the trailer.
UPDATE July 5 7:59am PST: Here are some more pictures of the trailer, again courtesy of Falk Melzer, who was able to confirm with Tesla employees it has no stationary battery storage. We have also learned it has nine 300W solar panels. When fully deployed it can generate up to 2.7 kW, or one-third that amount when the side panels are folded in.
This wasn't the only piece of cool Tesla technology on display at the Hannover Exhibition Center. The automaker also brought out the cutaway model showing off the structural battery pack and 4680 cells in the Model Y that was used during the County Fair at Giga Berlin last year.
Expo attendees who want a more hands-on experience could also get in the passenger seat and experience the launch of a Giga Berlin-made Model Y Performance. When Tesla shows off the instant torque of their quickest vehicles, they usually set up their light tunnel, like they did at the Plaid launch event, to enhance the effect of the blazingly fast acceleration.
Plaid. 0-60. LAUNCH MODE. BOOM.@elonmusk pic.twitter.com/QccaWPgPxz

— Whatsupfranks (@WhatsupFranks) June 11, 2021
In Hannover, they went with a "greener" approach and used a pathway lined with trees for the same effect.
Tesla usually sets up their light tunnel to show off launches in their vehicles, but went with a "greener" option at the @ideenexpo in Germany @elonmusk pic.twitter.com/Xk0nH7nbYL

— Drive Tesla 🇨🇦 (@DriveTeslaca) July 4, 2022